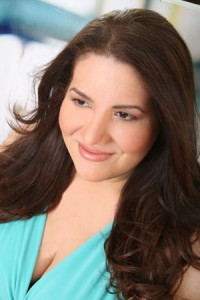 Miss Mercado's unique voice is being hailed unlike anyone we hear today; a voice to breathe life into those young, noble heroines of opera, and which can exhilarate the opera house into electrifying frenzy.
The 2017-2018 season highlights include reprising the role of Leonora in Il Trovatore with the West Side Opera Society, her role debut of Patience in Paula Kimper's Patience and Sarah for American Opera Projects in conjunction with Music and Mentoring House, a concert of Italian Arias for the Cathedral Basilica of the Sacred Heart Concert Series, a return to the Music and Mentoring House Saturday Soirées Series, a concert for Three on 3 Productions of Harlem Divas and Divos, and the role of Rosario in Enrique Granados's Goyescas with Empire Opera in the summer of 2018.
During the 2015-2016 season Ms. Mercado and pianist Laura Ahumada were on tour with their lecture recital A Musical Discovery Inspired by Columbus Travels demonstrating the influence of Spanish rhythms and idioms prevalent in Latin American Music. Ms. Mercado made her debut as Surpanakha and Sita's soul in The Ramanaya with the Surati Dance Company and returned for a concert with Opera Exposures singing Bohème scenes, spirituals, and early music. 2016 season highlights included a September 11th Memorial Concert at Symphony Space singing the music of composer Harry Bialor, and the soprano soloist in Mahler's Symphony No. 8 with the Hellenic Music Foundation Orchestra in October.
For the 2013-2014 season she took on three major role debuts first as Giselda, in Verdi's I Lombardi with the Singers' Theater of Washington, then as Leonora in Verdi's Il Trovatore for a return engagement with Vera Musica and  Giovanna in Giovanna D'Arco with Harmony Project in NYC. She joined mezzo-soprano Sara Murphy in a recital of Operatic Duets and Arias and tenor Francisco Casanova for several performances, starting with a Gala Concert for Vera Musica in New York City.  In the summer she performed with Opera Exposures in an all Verdi program singing early to late Verdi.
During the 2012 season Ms. Mercado made her debut at the Teatro Nacional where she sang excerpts of Aida, Madama Butterfly, and Il Trovatore.  In April she made her debut as Aïda with Valley Lyric Opera in Sharpsville, Pennsylvania and later in June with Vera Musica  in New York City. To close the season she sang a concert celebrating Verdi's 200th birthday with excerpts of I Lombardi, La Forza del Destino, Un Ballo in Maschera, and Ernani for Vera Musica in New York City.
With an extensive art song and chamber music repertoire, Miss Mercado is an avid recitalist in both Puerto Rico and the U.S., having performed as part of the Young Artists Concert Series at the University of Puerto Rico with pianist Diana Figueroa, the concert Nuestras Voces Líricas at the Tapia Theater, the recital Le voci della sera an evening of Italian bel canto at the Puerto Rico Museum of Art and the recital La pluie d'été, a collection of French heroines to celebrate the inauguration of the honorary consul of France in Puerto Rico's Casa Blanca.
A great exponent of Latin American Art Song and Zarzuela, Miss Mercado was invited by Empire Opera in New York City to perform at their Gala of Latin American Music. In 2011 she toured with tenor Francisco Casanova to several cities in the US. including Sharpsville, Pennsylvania and New York in performances in tribute to the great Italian tenor Pier Miranda Ferraro.
Some of her signature roles include: Giselda, in I Lombardi, Leonora in Il Trovatore, Giovanna in Giovanna D'Arco, Aïda, Desdemona in Otello, Donna Elvira and Donna Anna in Don Giovanni, Mimi and Musetta in La Bohème, Contessa D'Almaviva in Le Nozze di Figaro, First Lady and Second Lady in Die Zauberflöte, and Micaela in Carmen.

Ms. Mercado was the recipient of the Esther Boyer College of Music Scholarship two years in a row and won the Jacqueline D'Acosta Scholarship at the Metropolitan Opera District Auditions in Puerto Rico. She also received the Corporación de las Artes Musicales (CAM) Young Artist Award and a scholarship to study at the AIMS program in Graz, Austria. In May 2013 she became the recipient of the Emerging Artist Grant from The Inter-Cities Performing Arts Foundation.